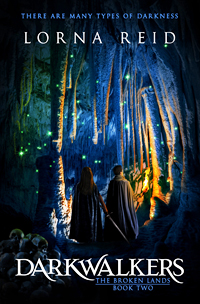 Publisher: Ravensforge Books
Publication date: 24th May 2018
ISBN-13: 978-1912325146
Pages: 472
Kindle file size: 748 kb
Formats available: Print, Kindle, ePub
He shouldn't have taken it. He shouldn't have used it. Now, everything is in chaos.
When a magical accident shatters Danny's world nothing will ever be the same. Only the Darklands, forbidden and sealed, hold the key to saving him, but time is running perilously short.
When they get separated from their shadowy guide, Danny and Katrina must fight through the sinister underworld of the Darklands together, each facing their own dark awakenings while evil closes in.
Meanwhile, Poppy and Russell have their own struggles, as a reckless decision leads to disaster. They are forced on a terrifying journey, beset by shadows, and pursued by death. A face from their past offers the only flicker of hope that they have, but will it be enough and how far can they trust?
With the friends divided, each will walk their own dark paths… but what and who will they find, and will Danny's race against time end in grief?
If you love magical quests, strong fantasy worldbuilding, and unbreakable friendships, then this is the book for you. Darkwalkers is the second book in the epic fantasy adventure series The Broken Lands.
Publisher's note: This book is written in British English and contains oodles of sarcasm, strong language, and words. Lots of words.
Buy now in print and eBook from a number of online stores …