Diary of an Evil Overlord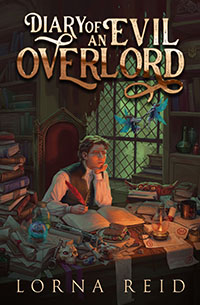 Publisher: Ravensforge Books
Publication date: 22nd April 2021
ISBN-13: 978-1912325313
Pages: 292
Kindle file size: 863 kb
Formats available: Print, Kindle, ePub
Do you ever wish you hadn't killed your parents?
Nate Evergrim does. By the time he realises that the evil domain he just 'inherited' comes with far more problems than he ever imagined, it's too late… he got what he wanted and now, he'll get what he deserves.
The west wing of the castle is falling down after being undermined by dwarves, the kitchens are overrun with mutant weevils, and the builders have walked off the restoration of the torture chamber for health and safety reasons.
Wilfully obtuse staff, stupid minions, and a grandmother who (despite his best efforts) just won't die, are the least of his worries. Time is running out for him to find enough gold to quell a mutiny, if he can just survive his devious mistress and stave off invasion from… well… everyone, especially the local Heroes' Guild, who have a quota to meet. And to make matters worse, Health and Safety's most dangerous inspector has just arrived.
Buy now in print and eBook from a number of online stores …