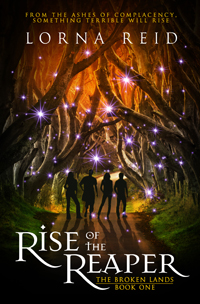 Publisher: Ravensforge Books
Publication date: 12th November 2015
ISBN-13: 978-0992730352
Pages: 396
Kindle file size: 2763 kb
Formats available: Print, Kindle, ePub
A darkness is rising… but who will stop it if no one believes that it's coming?
A strange, dark underworld haunts Danny Stone's dreams. Even more haunting are the glimpses of his mother, years after she mysteriously disappeared. She's lost and searching desperately for a way out of the darkness. For a way back to him.
Sensing a renewed hope and searching for answers, Danny and his friends discover the secret that their parents have long hidden from them: an ancient portal to a fragmented magical world. A world forged by blades, blood, and sorcery. Danny and his friends plunge through the portal to search for her, but their quest takes a terrifying twist when they learn of a coming evil that threatens not just those they love, but the very lands themselves.
Now they must voyage across the treacherous waters of the Black Pass and into the arms of the rising darkness in a desperate race to change fate. But will they be in time?
Rise of the Reaper is the first book in The Broken Lands YA fantasy saga. If you like immersive fantasy worlds, swords & sorcery, and fast-paced action, then you'll love this dark adventure.
Publisher's note: This book is written in British English and contains oodles of sarcasm, strong language, and words. Lots of words.
Buy now in print and eBook from a number of online stores …